One year back, I decided to get back to studies to further my education and pursue a Postgraduate Diploma in Management (PGDM). Coming out of corporate life after five years, away from it all; there were inevitably many apprehensions, but interestingly this feels as corporate as the corporation itself.
The fear that I was sure to lose out on the corporate experience of leading a team, managing big projects, and experiencing diversity had taken hold in my mind but to my surprise, it did not happen.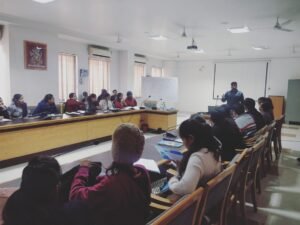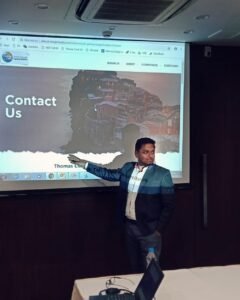 I was also skeptical about how will I be able to cope with the age difference of my peer group. I realized I was seeing the world through rose-colored glasses. I had always been impressed with how much younger people seem to be able to stay in touch and evolve as technology changes. I see their ability as very inspiring, but now walking shoulder-to-shoulder next to a few friends 5 or 6 years junior to me has given me an even deeper insight into the way things are changing around us all!
In my time in the corporate, I took on challenges and solved problems from every angle. Now that I am at FOSTIIMA Business School I wanted to share my experience from the corporate with my friends and batchmates in a practical way and the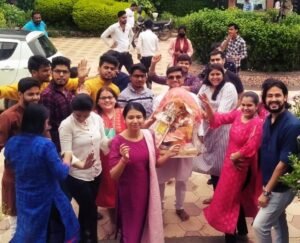 GANESH CHATURTHI Celebration gave me such an opportunity. I saw this as an amazing opportunity to share an insight into how things are done in the corporate with the peers and we're all lucky we had this event or else we would have been left out on a lot of learning and a great experience. This event gave my team, and myself, exposure to coordinate with different departments like administration, Transportation, finance, etc. It refreshed my skills and I'm sure it gave my peers a fresh perspective towards event management. Moving forward With everyone, moving forward together with my friends, and with the support of the faculty at FOSTIIMA really made me feel at the peak of my performance and still in the corporate.
I also revisited my passion for singing and dancing, which I hadn't been able to follow because of my job responsibilities. Thanks to the college I had so much fun creating new memories on stage after so many years. I must make a special shout-out to FOSTIIMA for always encouraging us performers.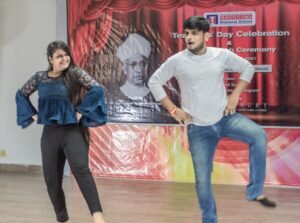 After the GANESH CHATURTHI celebration, I again got an opportunity to organize TEACHERS DAY 2021. This was again a reminder of my corporate days when I used to host my superiors in corporate events, ensuring that the event would be successful and possibly a benchmark for the next year. I yet again performed a dance number with my co-partner and I would like to thank her because only she knows how difficult it was for me to perform after being away from the stage for several years.
The Teacher's day celebration also had a BOOK LAUNCH by the college, which was a memorable event for me and I felt blessed being a part of this auspicious occasion. The Event had dignitaries from various walks of life and I met a lot of inspiring personalities post the event.
Frankly speaking, the book launch event served as an inspiration for me to try my hand out in writing and you are reading my first blog post. I thank you for that!
In the end, I must say that in this day and age, there's never been more information available than ever before. So if you're planning to get back to studies after having worked for some time, you must.
I took a leap of faith and this led me to better understand people through observation as opposed to just guessing from one conversation with them, which could give false impressions or build expectations without trustworthy data points. I have understood that the apprehensions I had were all in my mind and that a PGDM course is the best way to understand the corporate culture firsthand, even for Freshers. I must say that everyone, including people with work experience, should drop all their apprehensions and inhibitions and pursue further studies if they feel the need for it and join a PGDM course.
Look at me, I am still doing what I love and also doing what I love more.
See you all in my next blog, Ciao!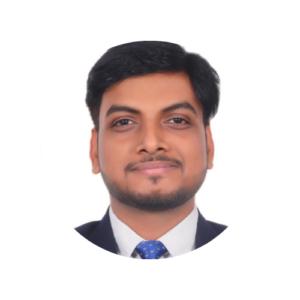 Author Name –  Krishna Pandey
Follow on Instagram – @mr._perfectionist2
Follow on Facebook – https://www.facebook.com/krishnakant.raj.5
Our Personal blog- https://mrperfectionistkrishnaraj.blogspot.com/
FOSTIIMA Business School, PGDM 2020-22